The Standard DSLR Follow Focus Kit contains:
DSLR Follow Focus, Accessory Tin, Focus Marker Strap, Main Focus Arrow, Reducer, Main Focus Arrow, Focus Markers, Rubber Reducer, User Guide and Storage Bag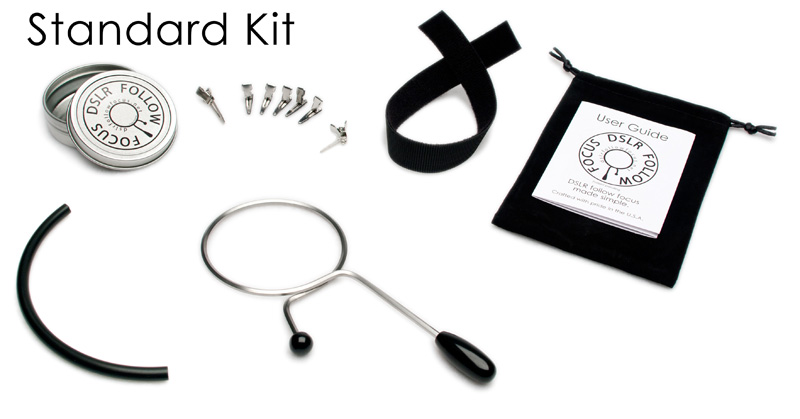 ---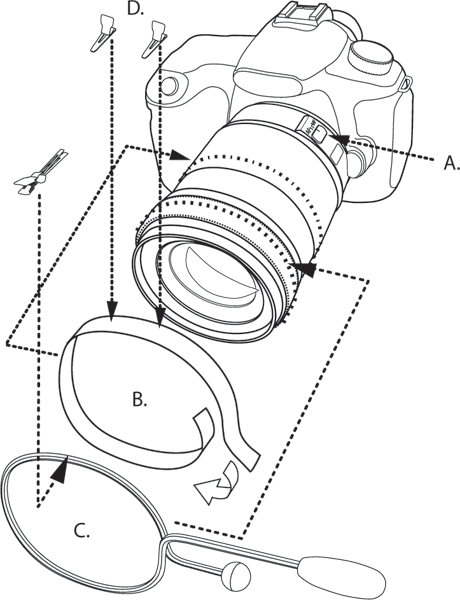 Instructions
A. Turn off lens auto focus
B. Place Focus Marker Strap around lens
C. Clip Main Focus Arrow to DSLR Follow Focus, squeeze and slide over lens to focus ring
D. Focus on your subjects and place Focus Markers next to Main Focus Arrow on strap
Now you can easily shift focus between the two subjects, using the focus markers as stops.
Additional Notes
Omit strap and markers for on-the-go focusing
Can be positioned for left or right-handed use
Positioning strap further from the DSLR Follow Focus allows for more than two focus points
Rubber reducer can be used on metal lens focus rings or to get a better grip on on a smaller diameter lens.
Works great for precise macro focusing
Fits many lens diameters, custom sizes are available by request
Tension and size of the DSLR Follow Focus can be adjusted slightly by applying pressure in the desired direction
Important!:
The DSLR Follow Focus is only to be used with manual focus lenses, or auto focus lenses with auto focus turned off.