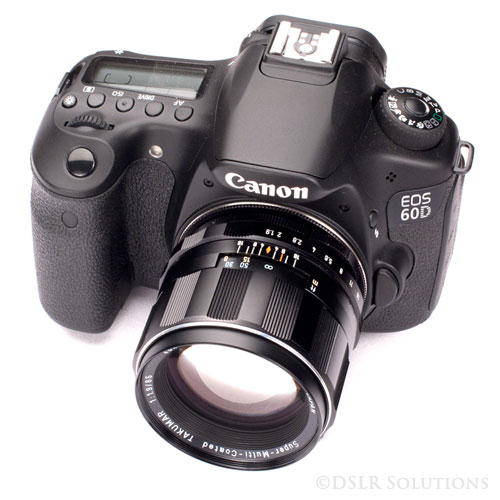 Since I have been using solely my prime vintage lenses for video lately, I have been wanting the capacity to pre-visualize what prime focal length lens I need for a specific shot. I want to be able to setup the tripod and know exactly what lens I need to mount for the shot I am trying to achieve.
Having been a photographer most of my life, you would think I would already have this skill. Unfortunately, I was used to relying on the functionality of a zoom lens, somewhat as a crutch, to help frame the shots I wanted.
To make things even worse, I am currently shooting with a Canon 60D which has an APS-C sensor and a multiplier of 1.62 for every one of my prime lenses printed focal lengths. Getting a "Full Frame" camera would fix the multiplier issue, but I am not very enamored by any of the full frame HDSLR camera offerings for video. And quite honestly, I would still have trouble being able to visualize the focal length being so out of practice at it.
There are a few different ways to determine focal length and frame width, including a director's viewfinder (costs money), a smart phone application (costs money and distracting when working). Another no-cost option would be to simply practice more in order to get better at visualizing my shots and seeing the focal length without any aid at all.
I tried practicing more and was not very successful because I need some visual reference point to go by. This started thinking about the tools that we already carry with us everywhere we go. Here is where the arms, hands and fingers come in. After all the human body was one of the original measuring devices. Ever wonder why a foot is called a foot?
Most of us realize that the human body has certain dimensions, but here is the really cool part. Your hand and finger length along with your arm length tend to scale in proportion to your body for most people, roughly 95% of the population in fact.
Some of you might know the focal length rule that two hands equals 50mm and one hand equals 100mm. This still works great for full frame cameras, but when there is a multiplier involved, things start to get more complicated rather quickly. Many of us have also likely used our thumbs and fore fingers to approximate the 16×9 frame shape. Unfortunately, this shape does nothing to help determine lens focal length. You could move the "finger frame" in and out to approximate different focal lengths, but this quite variable less accurate than what I am going to share with you.
Using your hands to visualize framing
Using your arms, hands and fingers is an easy way to visualize the frame width for a specific lens making it a breeze to determine what prime lens you need for a certain shot. And once you know the frame width, approximating a 16×9 frame height, or any other frame height is a pretty easy task.
All measurements are done with your arms fully extended in front of you with hands tipped up at roughly 90 degrees. It is helpful to close one eye for determining the final frame width. Keep in mind the measurements scale according to each persons body and should be very accurate for around 95% of the population. If you fall into the 5% with short arms with long fingers or long arms with short fingers, you will need to adjust the measurements to compensate for your proportions.
The APS-C sensor size I am referring to in the table is the Canon sensor with a 1.62 multiplier, if you have a camera sensor with a different multiplier from another vendor such as Nikon or Panasonic, you will need to adjust the measurements. I have also included a table referencing "Full Frame" focal length hand measurements. Each photo can be clicked for a more detailed view of each hand position.
APS-C Crop Body Measurement Table
Lens

After 1.62
Multiplier

APS-C Sensor (1.62 lens multiplier)
Canon 60D, 7D, 70D, T3i, T4i

Hand Positions

18mm

29.16mm

Three hands wide at full arms length.

28mm

45.36mm

Slightly less than two hands wide at full arms length.

35mm

56.7mm

One hand + width of one fist at full arms length.

50mm

81mm

One hand wide + width of thumb at full arms length.

55mm

89.1mm

Slightly less than one hand wide at full arms length.

85mm

137.7mm

Inside edge of thumb to tip of forefinger wide with hand in "L" shape, thumb up.

100mm

162mm

One fist with thumb out wide at full arms length.

135mm

218.7mm

One fist wide with thumb at side at full arms length.

200mm

324mm

Index finger knuckle to first joint wide at full arms length.

250mm

405mm

Thumb knuckle to first joint wide at full arms length.
Full Frame Body Measurement Table
| | | |
| --- | --- | --- |
| Lens | Full Frame Sensor Canon 5D Mark II, 5D Mark III, 6D | Hand Positions |
| 28mm | Three hands wide at full arms length. | |
| 50mm | Two hands wide at full arms length. | |
| 55mm | One hand + width of one fist at full arms length. | |
| 85mm | Approx. One Hand + Width of Thumb at full arms length. | |
| 100mm | One hand wide at full arms length. | |
| 135mm | Inside edge of thumb to tip of forefinger wide with hand in "L" shape, thumb up. | |
| 200mm | Length of index finger wide (knuckle to tip of finger) | |
It was truly fun putting this post together and I hope some of you found it useful for helping to visualize your shots. Comments will be open for roughly 30 days and it would be wonderful to hear your thoughts on this topic. **Closing comments due huge amounts of SPAM. If you want to comment on this article, just drop us a message. Thanks!**
If you are looking for a simple follow focus or versatile camera stabilizer, but sure to check out our products page.
Lastly, if you found this post informative, please be sure to spread the word using one of the "Share this page" links below the related posts.