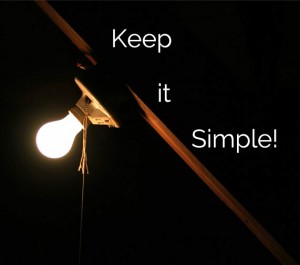 It is no secret that we like minimalist tools when it comes to adding functionality to HDSLR, cinema, mirrorless or traditional video cameras. After all, what good is a small camera that has been made HUGE by mounting it to a large cage or extremely complex shoulder support and focusing system?
If you are filming high-dollar motion pictures or other major money projects, perhaps the larger camera and all the expensive tools and accessories are "worth their weight in gold." But, for most of us, they are not. Independent filmmakers are usually on a tight budget, travel light and are in desperate need of more affordable options for better film making.
At DSLR Solutions, we feel the best tool is the one you have with you which functions well and gets used, but does not cost a fortune. I see press releases all the time touting some product's upgraded features, but here's the problem, that usually means the new version is even more complex (more handles, new gearbox, nifty gizmos, and so on) making it less portable and more expensive.
By contrast, our new product, called the Ultra-Simple Follow Focus™, is more versatile than our previous tool – one handle fits nearly every lens on the market – but now weighs less and costs less than the previous version.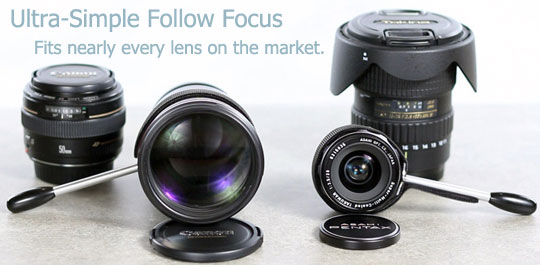 That's right, our new product, the Ultra-Simple Follow Focus™ fits lenses with diameters from 1-1/2″ (38mm) to 4-1/2″ (114mm) with a minimum 3/8″ (9mm) wide focus ring. Priced at only $25 for the handle and $45 for the complete kit, this product might just be the perfect focusing aid to have in your camera bag or pocket. The handle weighs less than 1/2 ounce, in fact, the entire kit weighs less than 2 ounces. Best of all, it is made by us in the USA and your satisfaction is guaranteed.
As you can tell, I am pretty excited about the new product launch. 😎
If our new simple focus shifter sounds interesting, head over to the page we created that explains how it works. It was truly a pleasure simplifying our previous design even further and I hope you like what we have come up with.
Aric Spence
President/CEO
DSLR Solutions
FYI: We still offer our previous design for those with the Canon 50mm f/1.8 lens or the Canon 40mm f/2.8 STM lens because their focus rings are not wide enough to accommodate the latest handle design. Those products are available on our products page.