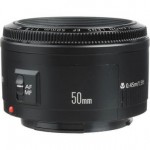 One of the first lenses a DSLR video shooter usually purchases is the Canon 50mm f/1.8 lens. The main reason is price as the 50mm f/1.8 lens is around $200 less than its closest relative the Canon 50mm f/1.4 lens. However, do not let the low price fool you, the Canon 50mm f/1.8 lens (aka "Nifty Fifty") is a solid performer, has great optics and provides excellent results for video. The main problem with the lens is the small focus ring. Not only is the focus ring very small, it is also tapers toward the front making it nearly impossible to attach any follow focus. Notice I said nearly impossible.
Awhile back we developed a follow focus solution for Canon 50mm f/1.8 lens, and while it works pretty well, I was never quite satisfied with the way marking focus points worked out. With that in mind, we went back to the drawing board and came up with a new Main Focus Arrow that is specifically designed to clip over the stainless steel handle and step up to the focus marker strap on the 50mm f/1.8 lens.
Here is a video detailing how Version 2.0 of the Canon 50mm f/1.8 Follow Focus works.
For our friends viewing this post via Feedburner, click here to view the video.