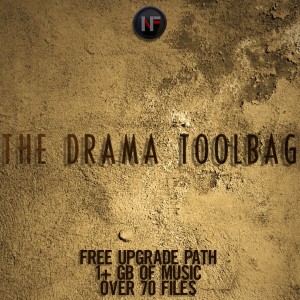 I recently had the pleasure of purchasing the latest album from Luke Neumann at Neumann Films titled "The Drama Toolbag". The vibe of this new album fit perfectly into a project that I have had on the back burner for awhile now. In fact, the album has provided some needed inspiration to get back out and do some filming.
At this point, you might be asking what the "new approach" is that I referred to in the title of this post. Well, the way Neumann Films sells music is quite unique and unlike anything I have come across before.
First, rather than one song (30 second, 60 second & full length) like you would commonly get for $40 at other stock music sites, with the Nuemann Films albums you get several songs for that price. Specifically with the Drama Toolbag, you get ten unique songs, ranging from 48 seconds to 1 minute 45 seconds in length. Second, this album will receive additions to it over the next year and by buying in now, you get a "free upgrade path". This means, you will receive an email when there are are additions to the album and can download them at no charge. The album price goes up with every addition and thus you will pay more if you buy the album later. Now you see why it is called a free upgrade. Keep in mind that the earlier you get in, the less the toolbag will cost you.
Update: Due to the recent new additions the Drama Toolbag is currently running around $70 (on sale), still a major bargin for all that is included.
Think of the Neumann Films "Toolbag" albums as the Swiss Army Knife of stock and royalty free music.
So, here is where it really starts to get interesting. The reason it is called a "Toolbag" is that you get over 70 files (now over 100 files) including Atmospheres (9), Orchestral Elements (10), Piano (15 x 4 bpm variations of each), Songs (17) and Transitions (3). The unique format gives the end user WAY more options than one would normally get with standard stock music purchases.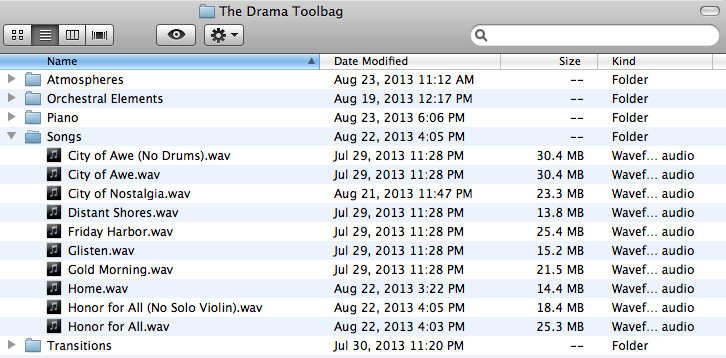 Click the image above to see the complete folder structure.
You can now mix and match the proper song and other album elements to your footage, not the other way around. For instance, you might combine a piano track that transitions into a song for one scene. Then for another scene, you may just want to use just an atmosphere as the background, you get the idea. Quite frankly, it does not seem like stock music at all, it seems more like "music stock options." Think of the Neumann Films "Toolbag" albums as the Swiss Army Knife of stock and royalty free music.
So, why am I writing this post? Well, I have followed the Neumann Films video tutorials for quite some time, but never really explored their royalty free music until recently. I have a hunch that others may not be aware their music offerings either.
It is such a pleasure and so refreshing when someone thinks outside the normal boundaries of their industry to come up with a great product at a reasonable price. Hat tip to Neumann Films for doing just this.
December 2013 update: The first update to the Drama Toolbag was delivered on December 1st (Update #2 will be sent out in February), the update size was 439MB with 21 more files which included 7 more songs, 2 more atmospheres and 3 more piano tracks in 4 different beats per minute options.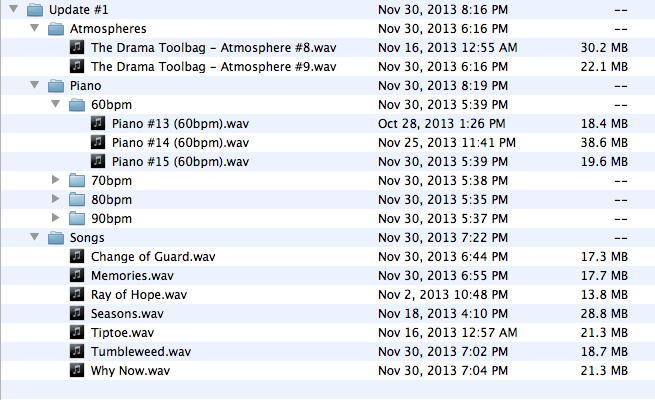 My favorite additions are the two new atmospheres and the songs Change of Guard and Memories. However, all the additions are excellent and will provide some great options when trying to find or fit a piece of music to a particular scene or piece of footage. Here are some samples of songs from the update: https://soundcloud.com/luke-daniel-neumann/sets/the-drama-t
Just a reminder that the earlier you purchase the "Toolbag" the more files you get at the current price. If you wait, you will pay more for the same content you could have received for less. If you have ever been inspired by any of Neumann Films work, go show you support and purchase something from his site. There truly is something for everybody.
What are you wanting for? Go check out all their Cinematic Music offerings.
Other ways to connect with Neumann Films:
Website: http://neumannfilms.net/
Twitter: http://twitter.com/NeumannFilms
Facebook: http://www.facebook.com/NeumannFilms
Youtube Main account: http://www.youtube.com/user/Neumannfilms/
Youtube Short Films account: http://www.youtube.com/user/Dod3032
BTW, I received no compensation or other incentive for writing this post. I am simply a happy customer enjoying a excellent product. Cheers
If you enjoyed this article, be sure to "Like" us on Facebook:
http://www.facebook.com/DSLRSolutionsUSA