Awhile back I ran across an article about using older M42 lenses for video on newer Canon cameras with an M42 to EOS adapter. I was pretty excited because, thanks to my father in law, we have quite a nice set of old Takumar lenses.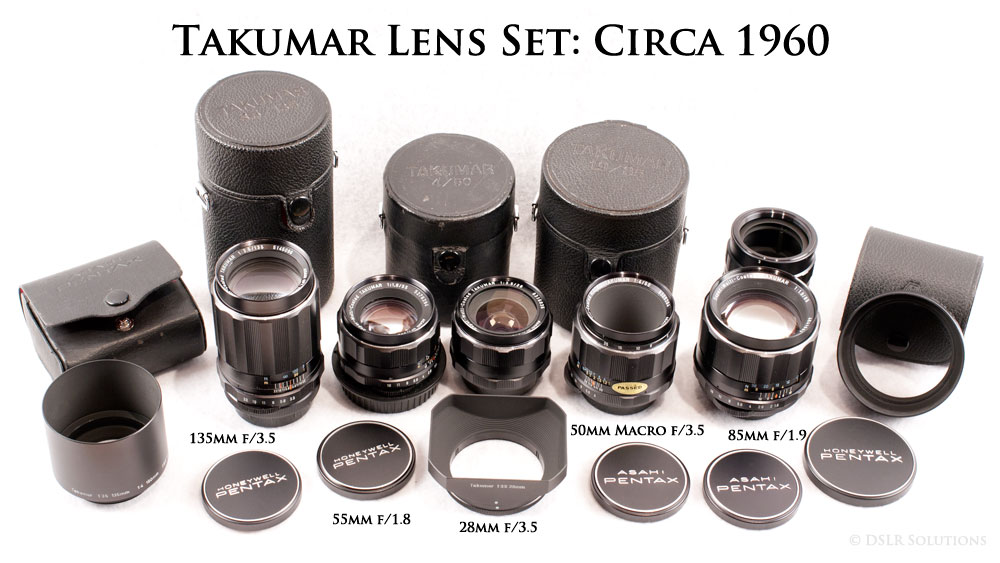 Thinking about older lenses brought back memories of that buttery smooth focus ring on the old Canon FD 50mm prime used with my Canon FTB body. I can remember the moment I extracted the Takumar lenses from their leather cases and twisted the focus ring. WOW! I had forgotten how nice the older lenses were made.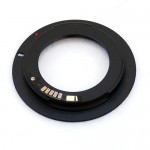 I immediately bought an M42 to EOS adapter (without chip). Unfortunately, my current camera (Canon 60D) did not recognize that a lens was attached. I wound up needing to purchase the adapter with the chip, which worked perfectly. Keep in mind that these older lenses are completely manual and YOU will need to adjust the aperture and focus ring, the camera does none of it for you.
At this point I was getting really excited about using these older lenses for video, but it remained to be seen what kind of optical quality would be achieved. I assumed it would be pretty decent, but had not idea how nice of images from the older Takumar lenses would produce. One word "Fantastic!" The images are organic and the lens bodies are beautifully machined and they are truly a pleasure to use. Here is a shot testing lens flare on the Canon 50mm f/1.4 and the Takumar 55mm f/1.8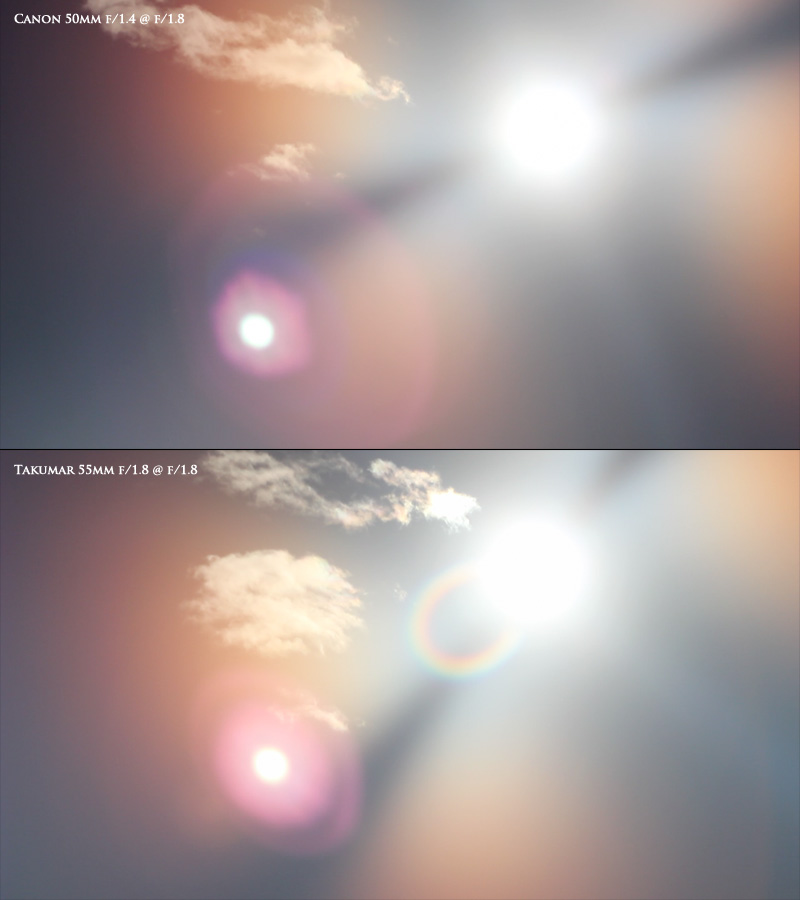 Wide open, the Canon 85mm f/1.8 beats the Takumar 85mm f/1.9 in sharpness (at least in my initial tests), but when reviewing the video, I actually think the Takumar 85mm has a more cinematic image. The Canon 50mm f/1.4 and the Takumar 55mm f/1.8 are very close in sharpness, and again I prefer the Takumar image over the Canon. I am manual focusing and using a variable ND filter which adds a layer into the mix, but these frame grabs should show how the lenses compare after small color correction. Also keep in mind that lighting is constantly changing and can affect the final comparison. Here a few sample frame grabs from some recent footage for non-scientific comparison (click any image to enlarge).
Let me qualify this with saying that if you require auto aperture or auto focusing you will be disappointed. But, if you are shooting video on a DSLR, Cinema, or Mirrorless camera, these older lenses are so much better than the new offerings you will wonder why you had not tried them sooner. Seriously, some of the old Takumar lenses can be picked up for around $100 and in my opinion out perform their newer several hundred dollar counterparts in many ways.
First thing you will notice is the lenses actually have a focus ring that is super smooth when turned. No more jerky missed focuses, which can sometimes happen with the newer lenses when shooting video. Most of the older lenses also have more throw, meaning that they have more degrees of rotating between infinity and close focus giving you a finer level of focus adjustment. Many old lenses also have machined metal enclosures unlike the plastic lens enclosures that are so common today.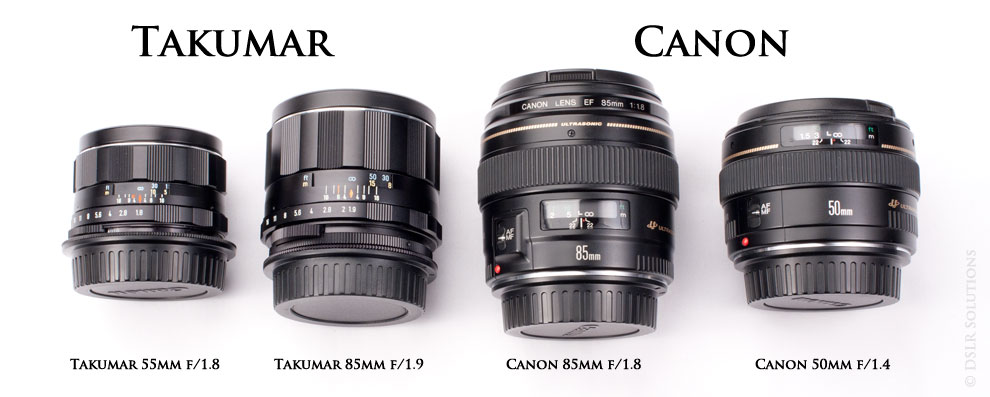 Most of the new lenses were built for fast, silent auto focus. The technology got so good that the camera manufactures no longer needed to focus on the manual capabilities of lenses as the camera computers were doing the adjustments so darn well. With the implementation of video into the HDSLR cameras however, users found themselves stuck with the new technology lenses, most of which are not ideal for smooth video focusing.
Canon recognized the need and reached for more technology to solve the smoother focusing needed for video. They began offering their STM lenses, which are focus-by-wire (computer driven focusing), and in my opinion leave a lot to be desired. Sure, with cameras like the new 70D and the firmware-updated 7D, these lenses can be very useful if you need the camera to do the work of focus tracking for you. But, unfortunately the STM lenses can be quite noisy and sometimes unpredictable in manual mode. The STM lenses can be especially annoying if you are needing to hit a specific focus point repeatedly during multiple takes, making them nearly useless to serious or semi-serious filmmakers.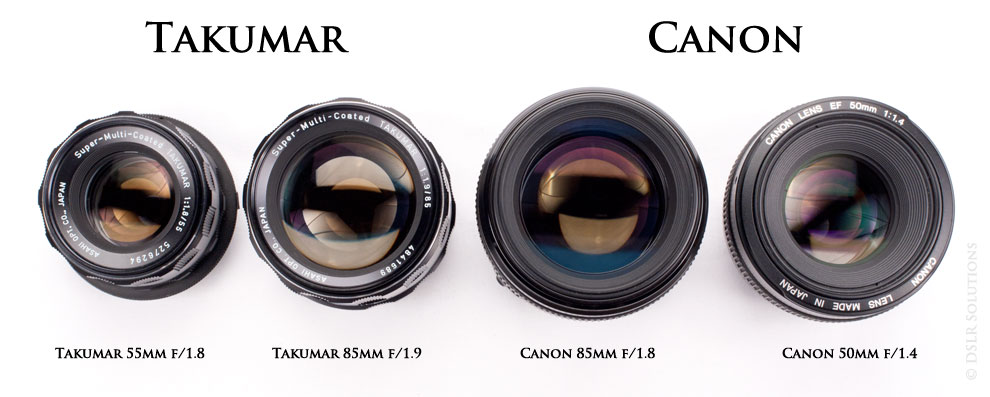 Sometimes new technology is not the answer to solving our latest problems. There was a day not so long ago when lenses were built to last a lifetime. Those types of lenses now cost more than most independent filmmakers can afford. So, I say go "Old School" and take a look at some of the older manual lenses. Be aware thought that the old lenses will make your newer ones feel like toys. Two words, "Fisher Price", now always come to mind when I forced to use my newer lenses, yes, even my "L" lenses.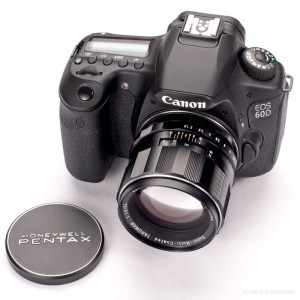 The Takumar lenses I am now using are in most cases, 50 years older than their more modern counterparts and I could not be happier with their performance. They produce great video images, are quality built, and have predictable focus rings that are buttery smooth providing the perfect complement to shooting video on any HDSLR, Cinema or Mirrorless camera. I just wish I had discovered that they could be adapted to my EOS camera sooner. They are now my go to lenses for video and travel with me everywhere.

Bottom line, if you are looking for some great glass at a bargain price, look no further than some of the old vintage lenses. Your local pawnshop may even have a few jewels just waiting to be adapted to your camera. Keep in mind that older lenses from brands like Leica and Zeiss can be pretty costly while other brands like Takumar and Olympus can still acquired for a reasonable price.
Stay tuned: We are currently working on a video that will compare the Takumar 85mm f/1.9 to the Canon EF 85mm f/1.8 as well as the Takumar 55mm f/1.8 to the Canon EF 50mm f/1.4. We are not going to perform any scientific tests, but rather, we will be testing the lenses in real world shooting conditions and comparing the results.
Anything you would like to see done in our tests? Let us know by commenting below or contacting us and we will see what we can do.
If you found this post informative, please be sure to spread the word using one of the "Share this page" links below.
Lastly, you may also want to check out our Ultra-Simple Follow Focus, which helps give you more precise control of newer lens focus rings and also works wonderfully with the old manual lenses.
Cheers,
A. Spence
DSLR Solutions